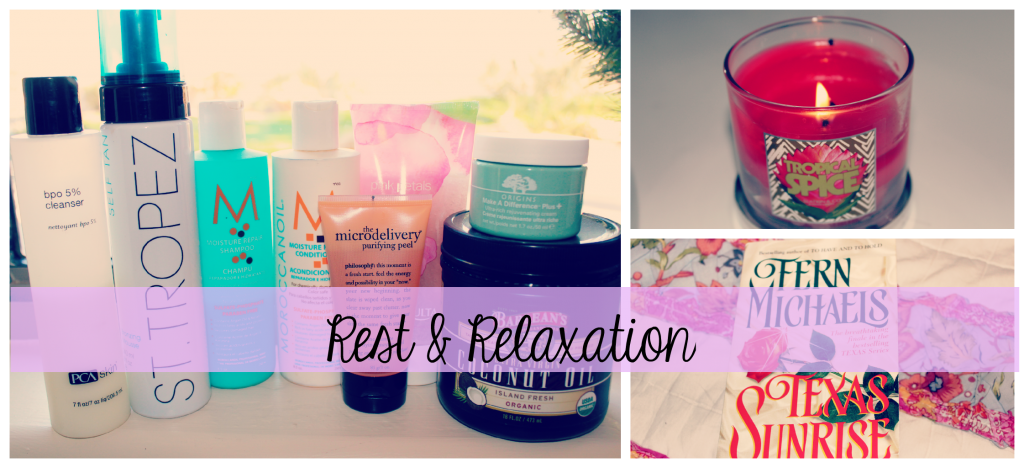 In the midst of a busy life, without any time or extra cash to go to the spa...sometimes a bit of self-indulgent 'me-time' is needed! Before beginning light a candle and pour yourself a big glass of wine! or maybe some cider will do. I generally like to do this routine as a pick me up, or if I have something like a date or outing the next day that I want to feel extra fresh for. I hope you enjoy this post, and find a little bit of time for yourself during this busy holiday season!


ONE:
Hop into the shower- shampoo + conditioner your hair, shave and exfoliate your body.
TWO:
After getting out of the shower generously apply your favorite hair mask, and wrap your hair up in a towel.
THREE:
While your hair is happily soaking in the treatment, give your face a good cleanse, pat it dry, & apply your favorite face mask.
FOUR:
Let your hair and face sit for a bit, and then hop back into the shower to rinse your hair and face off.
F
I
VE:
Now your hair, face, and body is soft and rid of any dead skin! Apply moisturizer to your face and self-tanner to your body.
S
I
X:
Give yourself a quick mani + pedi, clean up your eyebrows and your a new person :)
SEVEN:
Last snuggle into bed with a good book or movie!
Shampoo- Moroccan Oil Moisture Repair Shampoo
Conditioner- Moroccan Oil Moisture Repair Conditioner
Exfoliate- Ulta Pink Petals Foaming Sugar Scrub
Hair Mask- Barlean's Extra Virgin Coconut Oil
Cleanser- PCA Skin BPO 5% Cleanser
Face Mask- Philosophy One-Minute Purifying Enzyme Peel
Moisturizer- Origins Make A Different Plus Ultra-Rich Cream
Self-Tanner- St.Tropez Bronzing Mousse
Book- Fern Michaels Texas Sunrise